NOËL AND GERTIE
An entertainment devised by Sheridan Morley with the words and music of Noël Coward
Starring Lucy Maunder and James Millar
Directed by Nancye Hayes.
Two of Australia's rising stars of musical theatre transport you to a world of glamour, wit and elegance in a timeless musical which has been acclaimed throughout the world.
Noël Coward and Gertrude Lawrence formed a legendary on and off stage partnership. They looked rich, they were elegant; they sang, they danced, they made jokes through clenched cigarette holders. They were impeccable.
Noël Coward had a polished witticism for every occasion. To many he is known as a playwright, creating such classics as Private Lives, Present Laughter, Blithe Spirit and Hay Fever, and to others as the composer of timeless songs such as Mad About the Boy, I'll See You Again, and Mad Dogs and Englishmen. His range was extraordinary, extending from the bawdy to the sublime, from the witty to the achingly heartfelt and, once heard, many of his melodies are never forgotten. He was also an actor, director, producer, screenwriter, novelist, poet, cabaret artist, a skilful celebrity and a warm and enduring friend.
Gertrude Lawrence was a celebrated actress who triumphed on stage in the world premiere productions of Lady in the Dark and The King and I. Together, they formed a remarkable team and their friendship became show business legend.
Noël and Gertie is an entertainment crafted from diaries and letters between Coward and Lawrence and features songs, sketches and scenes from his best loved works, reminding the audience that Coward's talent wasn't simply to amuse but also to hold a mirror up to the frailty of the human condition.
James Millar, a writer himself (The Hatpin, Lovebites: A Song Cycle, A Little Touch of Chaos) as well as actor (Grey Gardens, Oklahoma, Jerry Springer: The Opera) returns from London to play Noël Coward and is joined by Lucy Maunder (Dr Zhivago, The Rocky Horror Show, Jekyll and Hyde) as Gertrude Lawrence. Directed by showbiz legend Nancye Hayes, they take a contemporary look at two of the 20th century's greatest stage personalities and the era they helped to define.
Noël and Gertie is highly entertaining, strangely familiar and surprisingly touching. If you love musical theatre, celebrity, gossip, glamour, the plays of Noël Coward; if you love shows like Downton Abbey, The Great Gatsy, Pride and Prejudice, Poirot, or Mary Poppins, then you'll love Noël and Gertie - a glittering evening of delight, wit, song and dance.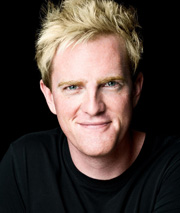 JAMES MILLAR
James is a graduate of WAAPA. His performance credits include the Australian premiere of Grey Gardens for the Production Company, Oklahoma for the Production Company, Snugglepot and Cuddlepie for Company B Belvoir, Eureka for the Melbourne International Arts Festival, The Little Dog Laughed for the Ensemble Theatre, the Sydney and Melbourne seasons of Gutenberg the Musical for which he was nominated for both a Sydney Theatre Award and Green Room Award, Company, Jerry Springer: The Opera for the Sydney Opera House and Love Bites which enjoyed two seasons in Sydney and in Perth. In 2006 James won the Green Room Award for Best Supporting Actor in the role of Jud Fry in Oklahoma. In the same year, he was selected to perform in Cardiff for BBC Radio 2's Voice of Musical Theatre.
Also trained in writing, James wrote the book and lyrics for The Hatpin, which played seasons in Sydney and New York in 2008; and Lovebites: A Song Cycle, both of which were nominated for Sydney Theatre Awards in 2009. In 2011, he was commissioned to write the book and lyrics for "A Little Touch of Chaos" and is currently completing the new musical "Nelson Started A Group" which is to have its professional premiere in 2012.
James' work on television includes A Country Practice, Water Rats, Naked: Coral Island, Home And Away, Police Rescue and the award winning film The Eternity Man, directed by Julien Temple.
LUCY MAUNDER
Lucy has worked extensively in the Australian and international musical theatre, cabaret, film, and theatre industries since graduating from WAAPA in 2006 and the Talent Development Project in 2004. Most notably Lucy was nominated for a Helpmann Award and a Sydney Theatre Award for Best Actress In A Musical for her creation of Lara in Des McAnuff and Lucy Simon's new musical Doctor Zhivago opposite Anthony Warlow throughout 2011 for GFO.
More recently, Lucy has toured nationally with her one woman show Irving Berlin: Songs In The Key Of Black to rave reviews. The show played the famous Spiegeltent in Melbourne in February and toured throughout 2012 appearing in festivals in Noosa, Brisbane, Perth, Melbourne, Sydney and Leura. It will feature at this year's Adelaide Cabaret Festival in June. Prior to this Lucy appeared in the critically acclaimed Darlinghurst Theatre production of Neil LaBute's Tony Nominated play Reasons To Be Pretty playing the role of Carly.
Other recent highlights have included starring at the Sydney Opera House Concert Hall and the Melbourne State Theatre as part of the Australian Philharmonic Orchestra's New Years Eve Concert Program Philharmonic Phireworks 2012, under the baton of renowned UK conductor Gavin Sutherland and the NSW Premiers Gala Christmas Concerts All Wrapped Up For Christmas at the Sydney Entertainment Centre.
Immediately following Doctor Zhivago Lucy starred as Polly Peachum in the Sydney Theatre Company/Malthouse production of The Threepenny Opera. Other career highlights include playing Janet in The Rocky Horror Show, opposite Richard O'Brien himself as The Narrator (South Korea/New Zealand tours); Anne in Opera Australia's A Little Night Music; Emma Carew in Jekyll And Hyde for TML Enterprises (South Korean Tour); Young Mary O'Hara in Harp On The Willow (Malcolm Cooke & Associates) opposite Marina Prior. In 2007 Lucy was a recipient of the TDP/ASCAP Bound For Broadway Scholarship, which took her to New York to perform her own showcase cabaret at Don't Tell Mama.
Other credits include the multi award winning Channel 4 UK feature film The Eternity Man; Side By Side By Sondheim; Wish Me Luck As You Wave Me Goodbye (His Majesty's Theatre Perth, Hamer Hall Melbourne); Mad About Coward (State Theatre Melbourne); A New York Christmas (The Basement, Sydney with David Raleigh); Gale Edwards' New Rocky Horror Show; The Sound Of Rodgers (Parramatta Riverside, City Recital Hall); An Evening With John Bucchino (The Supper Club); The Morning Show (channel 7), Mornings With Kerri-Anne; The Lord Mayor's New Years Broadcast; Elegies: A Song Cycle by Willam Finn (Sydney Theatre). Lucy can also be heard on the Showqueen: Sessions 2 Album.
Later in 2013 Lucy will be seen playing Rizzo in Grease for The Gordon Frost Organisation.
"Absolute corker of a play…a delicious confection that has the sparkle of fine bubbly and a similar intoxicating effect. The production, deftly directed by Nancye Hayes, has an elegant simplicity. Miller is cut out to play Coward…Maunder gives a lovely performance…they have a scintillating chemistry and capture the mischevious, bantering relationship between the two stars. Noël and Gertie is stylish, delightful entertainment…a delicious show"
Jo Litson, Sunday Telegraph
"Nancye Hayes has directed this entertainment with great affection. Lucy Maunder, elegant in faux Molyneux gown, looks like a young Elizabeth Taylor and captures the vivacity that was a keynote of Lawrence's stage persona, and James Millar's strong presence and timing bring life to Noel Coward… the show in total is a polished delight… Coward may have with false modesty claimed only to have a talent to amuse, but it was a talent that can still entertain and touch the heart."
Adelaide Advertiser
[ For the full review click here ]
"James Millar and Lucy Maunder are tremendous as Coward and Lawrence. They sing superbly, dance elegantly and re-create an era and culture of sophistication and polite society of England in the 1920s through to the '40s… Millar performs some classic Coward, such as Don't Put Your Daughter on the Stage, Mrs Worthington, with style, strength and humour, while Maunder has some beautiful and sensitive solos which showcase not only her own musicality and ability, but also Coward's artistry and understanding of human emotions… Noël and Gertie is a nostalgic evening of class and quality."
Adelaide News
[ For the full review click here ]
"Nancye Hayes' production of Sheridan Morley's warm-hearted account of a phenomenal theatrical partnership carries audiences aloft on a wave of revered affection and faithful admiration. Graham Maclean's stylish art-deco design provides the perfect setting for the show's journey back to its halcyon past. The entire production exudes style, elegance and grace. The secret to this production's success is in its casting, and in James Millar's Coward and Lucy Maunder's Lawrence, Hayes has come up trumps. Though physically rather more attractive than their real-life characters, Millar and Maunder are in perfect step as The Master and The Star upon the stage: he sartorially splendid in tuxedo with the assured touch of self- appointed genius; she utterly exquisite in Maclean's deliciously replicated Molyneux white gown. Accompanied by musical director Vincent Colagiuri on the piano, the trio evoke a time when style graced the stage and theatre was bathed in the confidence of celebrity and class.…in this production of Noel and Gertie, the theatre still holds the magical power to educate, to entertain and to beguile."
Peter Wilkins, The Canberra Times
[ For the full review click here ]
"… On the face of it Noël and Gertie is a simple confection of Coward wit and brilliance - light, bright and delicious. But Noël Coward was so much more than merely witty and brittle and in this new production, directed with finesse and sensitivity by Nancye Hayes, the depth of his "talent to amuse" is revealed - for those not familiar with him, and for those who are - the reminder is a delight. As well as Hayes, the other ingredients are an exceptional musical director and accompanist in Vincent Colagiuri, and the casting of James Millar and Lucy Maunder as the Meryl Streep of her day. They guarantee that this effervescent soufflé of a show is never in the slightest danger of collapse…. the repartee is scintillating and the underlying lost love is poignant….audiences are in for a treat."
Diana Simmonds, stagenoise.com
[ For the full review click here ]
"The tempestuous friendship between Noël Coward and Gertrude Lawrence was the most important of their professional lives. Not only were they close enough to finish each other's sentences, but their stage partnership was the underpinning of some of Coward's most famous creations, among them Private Lives, Tonight at 8.30 and Blithe Spirit. Lucy Maunder perfectly captures Lawrence's mix of restlessness and vulnerability… James Millar is equally good in portraying Coward's confidence and condescension"
Polly Simons, Daily Telegraph
[ For the full review click here ]
"Noel and Gertie is a charming wisp. Glamour, wit, style. Scenes from plays – Private Lives; Blithe Spirit; Tonight at 8.30 – are stitched together neatly with Coward songs and material from diaries and letters to paint a fond and rosy picture........ Lucy Maunder is an enchanting Gertie...."
Deborah Jones, The Australian
[ For the full review click here ]
"In a montage of songs, stories and famous scenes, Sheridan Morley's string-of-pearls 'entertainment' depicts the friendship of Noël Coward and Gertrude Lawrence, superstars of the interwar years.… we hear how these born performers became friends and inspired each other to their respective heights. In the public imagination, which owed much to Coward's Private Lives, they were inextricably linked. In private, their bond was a much looser one, though Morley has it never less than heartfelt. Accompanied by pianist Vincent Colagiuri on grand piano far upstage, Millar and Maunder are at their best in song. Millar is in control throughout….
Maunder sings delightfully"
Jason Blake, Sydney Morning Herald
[ For the full review click here ]
"delightful light musical entertainment interspersed with Noël Coward's scintillating and sardonic wit… a good dose of dramatic excellence as Noël Coward (James Millar) and one of his favourite female leads, Gertrude Lawrence (Lucy Maunder), recounted, warts and all, their life together on stage and off. Both were in superb form….in terms of perfection of delivery, with the musical direction and pianistic virtuosity of Vincent Colagiuri providing an elegant and essential backbone to the performance."
John Rozentals, ozbabyboomers.com.au
[ For the full review click here ]
"Maunder's voice is superb, from its crystal clear heights to its sultry depths, while Millar is exquisite as the charismatic Noel Coward,
capturing his legendary dry wit to perfection"
aussietheatre.com.au
[ For the full review click here ]
"This is a beautifully set and immaculately executed production that recreates, in a tribute to two of the best-loved performers of their time, all the glamour and elegance of the theatre in the early decades of last century. Nancye Hayes has directed her performers with minute attention to detail….James Millar is a very English and very elegant Noël. He is smooth, without being slick, and he sings beautifully as well! As does Lucy Maunder as Gertie. ….a beautiful production that recreates, very authentically, a period of musical and theatre history that should not be lost."
Carol Wimmer, Stage Whispers
[ For the full review click here ]
"A light, sophisticated entertainment which is sparkling,
brilliant and beguiling"
The Sunday Times
"beautiful… a complex portrait of a relationship
which seems like a real-life love story"
New York Post