TURNS
A Starry Starry Night
By Reg Livermore
Performed by Nancye Hayes and Reg Livermore
with Vincent Colagiuri at the keyboard
Director: Tom Healey
Musical Consultant: Michael Tyack
Choreographer: Karen Johnson Mortimer
Lighting Designer: Trudy Dalgleish
Set Designer: James Browne
Costume Designer: Matthew Aberline
The producer acknowledges and thanks Cliff Simcox for his early contribution to the set design.
A reflection on identity, family, show business....and completely losing your marbles, TURNS brings you two icons of Australian theatre,
NANCYE HAYES & REG LIVERMORE, as you've never seen them before.
Pantomime star Marjory Joy is on her last legs (or is she?) As she reflects upon a life spent in show business (or was it?) her son Alistair tries to understand this woman, all women - and to come to terms with one woman in particular...
Created especially for these two stars from the pen - and vivid imagination - of Reg Livermore himself, TURNS is an intimate and intriguing portrait of two people walking an emotional tight rope. Let these two legends take you on a theatrical journey which will surprise and delight you, as Nancye & Reg make you laugh, make you think, and even make you cry.
A kaleidoscope of theatrical styles, TURNS is a richly entertaining, whimsical, very funny and ultimately moving theatrical event not to be missed.
"Hayes is feisty, very funny and nimble...
Livermore delivers beautifully"
Sydney Morning Herald
"... singing, dancing, vaudeville routines
and splendid comic monologue…"
The Australian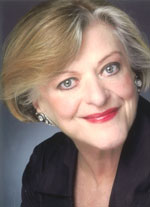 Nancye Hayes OAM
Nancye Hayes is one of Australia's favourite theatrical stars. She was catapulted to stardom by the role of Charity Hope Valentine in the 1966 Australian Production of Sweet Charity. Since then Nanyce has gone on to appear in both musical and non-musical drama, often creating roles for the Australian premiere seasons. An accomplished cabaret artist, Nancye has appeared in concert and cabaret with the West Australian Symphony, Melbourne Symphony Orchestra and at the Regent Hotel (Sydney). Her one-woman autobiographical show Nancye with an E has been performed across Australia. She has choreographed several major productions including Here Comes Showtime! (Marian Street Theatre), My Fair Lady (IMG/VSO) and for Sydney Theatre Company Merrily We Roll Along, Noel & Gertie, The Venetian Twins and Falsetto's. For Opera Australia Nancye has appeared in My Fair Lady and A Little Night Music and in 2007 she toured Australia with Todd McKenney in the CDP/Ensemble Theatre production of Six Dance Lessons in Six Weeks. Amongst her many awards are a Green Room Award, Norman Kessell Memorial Award, three Lifetime Achievement Awards (Sydney Theatre Critics, Variety Club and Green Room), a Critics Circle Award and a MO Award. In 2010, Nancye has also directed Todd McKenney in The Boy from Oz for the Production Company, and appeared in Murderers for the Ensemble.
Reg Livermore AO
Reg Livermore has a stellar career spanning 50 years on stage and in television. His achievement as an actor, author and designer are legendary. As a performer he is best remembered for show stopping appearances in Hair and Jesus Christ Superstar, as the original Dr Frank 'n' Furter in the Australian production in The Rocky Horror Show and for his performance in the musical Barnum. He enjoyed major successes with his series of ground breaking one man shows during the 1970's and 80's, starting with Betty Blokk Buster Follies propelled him to the forefront of Australian popular theatre. After the phenomenal success of the first show, he wrote and performed Wonder Woman, Sacred Cow, Son of Betty and Firing Squad. In 2004/05 he starred as Max Bialystock in the new Mel Brooks Musical The Producers. He was awarded an AO in 1996, and an Australian Artists creative Fellowship enabled him to write his biography Chapters and Chances published in 2003. He has been a regular television presenter on Burkes Backyard and Our House and has made many appearances with Opera Australia including in My Fair Lady, The Pirates of Penzance, The Gondoliers and Iolanthe.
Vincent Colagiuri - Keyboard
Vincent Colagiuri completed his piano studies at Sydney Conservatorium and has become widely known as a conductor, pianist and vocal coach in opera, operetta and music theatre. He has been engaged as repetiteur with the Western Australian Opera Company, Opera Queensland and with Opera Australia, working with many international singers and conductors. Vincent has also played keyboard in many major musicals including The Phantom of the Opera, Showboat, Les Misérables, Annie, Oliver!, Mamma Mia!, The Lion King, The Producers and Miss Saigon. Most recently he was associate musical director of Wicked and musical director of the Australasian tour of The Phantom of the Opera.
Tom Healey - Director
Tom Healey is a free-lance director who until recently was a member of the Artistic Directorate of Hot House Theatre in Albury Wodonga. Most recently, Tom directed Shaun Micallef and Stephen Curry in Good Evening: The Sketches of Peter Cook & Dudley Moore. Other directing credits include Inside Out (CDP), The Man in Black (Folsom Prison Productions), The Kid (Griffin), The Spook (Malthouse), The Shape of Things (Red Stitch) and Eddie Perfect's two solo shows Drink Pepsi Bitch and Angry Eddie. As a resident director Tom has worked with Neil Armfield on Shane Warne the Musical, Lindy Hume on Carmina Burana for the Australian Ballet and with Robin Nevin on Summer of the 17th Doll for Melbourne Theatre Company. Tom is currenly Literary Manager for the Australian Script Centre and has been Curator of the Australian National Playwrights conference, Casting Consultant and Artistic Counsel for Malthouse and Artistic Associate at Playbox.
Michael Tyack - Musical Consultant
Michael Tyack is one of Australia's most esteemed Musical Directors. He began his professional life as a musician in 1974 for JC Williamsons. He conducted the STC's production of Chicago then was Musical Director for their productions of The Stripper, Four Lady Bowlers in a Golden Holden, Jonah, Company, Merrily We Roll Along, Falsetto, Miracle City and Summer Rain as well as providing music for several of their plays. He has been Musical Director for many other major Australian productions including The Boy From Oz, The Witches of Eastwick, Eureka, Spamalot and Mary Poppins. Michael's cabaret and concert credits are extensive, having worked with Australian and overseas artists including David Campbell, Caroline O'Connor, Tim Draxl and Judi Connelli both here and abroad. Michael has played on many Australian cast albums, been Musical Director for an album of Sondheim songs with Geraldine Turner, Judi Connelli's last two CDs and the debut CDs of David Campbell, Chelsea Plumley, Rhonda Burchmore, Margi de Ferranti and Delia Hannah.
Trudy Dalgleish - Lighting Designer
Trudy Dalgleish is one of Australia's top lighting designers whose work covers opera, ballet, musicals, drama and events. Awards include a MO Award for Outstanding Contribution to Musical Theatre, a Helpmann for Best Lighting Design, Theatre for White Devil, an Entech Award for Best Lighting Designer – Live Events, the John Truscott Design Award for Excellence and a Green Room Award for Music Theatre Lighting for Eureka. Trudy's recent work includes A Little Night Music, My Fair Lady, Orland, Manon, HMS Pinafore, Trial by Jury and The Pirates of Penzance for Opera Australia, David Campbell's Good Lovin' tour, God of Carnage for Sydney Theatre Company, Ngurrumilmarrmeriyu (Wrong Skin) for the Chooky Dancers, Breast Wishes, Fame, Hairspray, Shout, Dusty a tour of Eurobeat in the UK, The King and I in China, Voyage and Dreams in Strasbourg and back home Inuk 2 and Sid's Waltzing Masquerade for Sydney Dance Company.
James Browne - Set Designer
James Browne is a graduate of the West Australian Academy of the Performing Arts in set and costume design and of the Australian Film Television and Radio School in Art Direction. Recently James designed sets for the Love Cooking Festival which toured the United Kingdom in 2009 as well as Jamie Oliver's live stadium show in Melbourne and Rick Stein's show in New Zealand. His theatre credits include a development production of Faust for the Sydney Theatre Company, costumes for New Breed for the Sydney Dance, Love Bites tour to Perth, the Singapore Theatre Practice, the Human Nature Dancing in the Street National Tour and The Chronic Ills of Robert Zimmerman aka Bob Dylan at Sydney's Seymour Centre. James has been associate designer on Graeme Murphy's AIDA for Opera Australia, SHOUT! directed by Stuart Maunder and the Nickelodeon Kids Choice Awards.
Matthew Aberline - Costume Designer
Matthew Aberline has a Bachelor of Arts in Fashion Design from the Canberra Institute of Technology, a Master of Arts Design from the Australian Film Television and Radio School and a Master of Arts Design Honours from AFTRS and was the first costume designer to win the Fox Studio Award for Design Excellence. Until recently Matthew was Principal Costume Designer for the Sydney Gay and Lesbian Mardi Gras which included parade design but also costumes for the guest performers for the Mardi Gras parties including Cyndi Lauper, Olivia Newton-John, Tina Arena, Natalie Bassingthwaite, iOTA, Carlotta, Nikki Webster and David Campbell. Matthew worked on Salgueiro, the winner of the 2009 Carnivale in Rio de Janeiro. He has worked across a variety of mediums and styles including theatre, film, fashion, events, exhibitions and photography. His work has been included at exhibitions at the National Gallery of Australia, National Gallery of Victoria, the Canberra Museum and Gallery and a solo show at Sydney Theatre Company's Wharf Theatre 5 Years of Fabulous – Mardi Gras and the work of Matthew Aberline.
Karen Johnson Mortimer - Choreographer
Karen Johnson Mortimer played Cassie in the original Australian production of A Chorus Line and since then has continued to be involved in all facets of the industry as a performer, choreographer, director, producer, artistic director and resident director. Her choreographic credits include Sacred Cow and Son of Betty for Reg Livermore, the Norman Gunston Show (ABC TV), Farnham & Byrne (ABC TV), Grease-The Mega Musical (GFO), Stones in His Pockets (STC), Leader of The Pack (Star City), Irish Dance Spectacular Anzac Military Tattoo (Acer Arena), 2007 Helpmann Awards, Tin Symphony (Opening Ceremony - 2000 Sydney Olympics), Gold Medallists Gymnastic Gala - 2000 Sydney Olympics (NBC-USA and Kelly's Republic (Sydney Festival). Karen was Resident Director for Grease-The Arena Spectacular in 2005 and one of the Artistic Directors for the recent World Youth Day Festival Performances throughout Sydney and was Resident Director for the musical Chicago.
Cliff Simcox
Cliff Simcox has designed many of Reg Livermore's one man shows. He trained as a display artist and graphic designer before moving into set design for television in the '60's. The following decade he became Resident Designer and scenic painter for the newly formed Queensland Theatre Company and later joined Opera Australia as a sculptor/painter.